Ute Bed Liner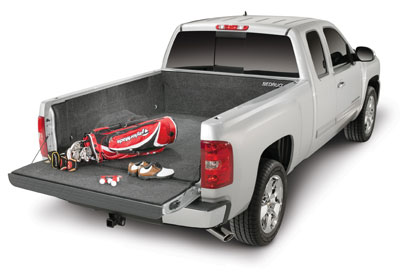 BedRug is a soft liner that has the capability to turn your ute bed into a boot protecting both ute bed and cargo. It can still be used for "heavy use" such as carrying dirt because it's tough and very easy to clean.
The BedRug is made out of the same material as a hard plastic drop in liner, but looks and feels like a carpet. It is made of closed-cell foam and has a stain-resistant plastic fibre surface which will not absorb water and is easy to clean.
The BedRug is very easy to install, with an exact fit and fills in the ribs of the ute bed for a smooth "knee" friendly surface. It does it all and with more style than any other plastic bed liner. It is a tough protection for any ute bed and cargo.
ADVANTAGES OF THE BEDRUG
Prevents dents and dings
Changes your ute bed into a boot
Waterproof and stain resistant plastic construction
Easy installation with self-adhesive tape
Non-skid surface
Acid, grease, oil and chemical proof
Soft and comfortable, protects even very fragile goods and cargo
Easy to clean - can even be pressure cleaned
Can be combined with tonneau covers
Tough enough for all kinds of jobs from carrying dirt to carrying tools